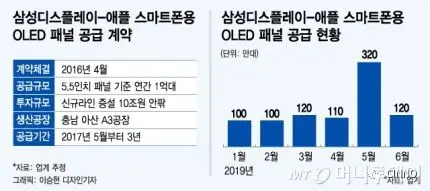 In especialThe iPhoneThe 6.5-inch XS MaxOLEDThe panel, Samsung, did not show up in March and April this year.AppleSupply.By the month of May, the company bought an out-of-the-plan 6.5 million panels, and in June an increase of 400,000 units.
Samsung showed earlier this year that it and Apple have been fighting psychologically over violations of the OLED panel supply contract. This is because Apple has signed a full-year contract with Samsung to ensure the supply of Flexible OLED panels on the iPhone, but Apple has reduced panel purchases because of poor iPhone sales.
Samsung shows that in order to meet the apple quantity, after two years, an A3 factory has been added as an Apple special production line in Yashan, Zhongqing Nandao, which can produce 6 generations of Flexible OLED (1500 × 1850 per month, and a substrate can produce 6.5 inch panel 200) 105 K glass substrate. Lower crop rates as a result of falling Apple orders, coupled with depreciation charges, dealt a huge blow to Samsung's performance.
It is known that Samsung has shown that the crop growth rate of A3 production line invested 10 trillion won has been reduced to 10-20%.
According to legend, Apple has proposed that in case the actual demand is not as large as the contractual amount, instead of paying liquidated damages, it uses the guarantee that Samsung displays the quantity of panels used for other products, but because Samsung shows a huge loss, it decides to collect liquidated damages.
Samsung Electronics's second-quarter interim performance report, released on July 5, includes "one-time revenue related to display", which industry analysis says refers to the liquidated damages paid by Apple. It is assumed that the default penalty paid by Apple to Samsung is between 7,000-900 billion won (41-5.2 billion yuan).
Samsung Display is a non-listed subsidiary of Samsung Electronics's display business. Samsung Electronics holds 84.8% of the shares. In order to reflect the performance of more than 50% of the subsidiaries, according to IFRS benchmark, Samsung Electronics Display will reflect the performance.
"Samsung showed great headache because of uncertain expectations of new Apple products coming on the market," said industry stakeholders. "To make matters worse, Apple sought panel supply from BOE, a Chinese panel factory, for the reasons of Japan's recent export control to Korea. Questioning voice: Is the addition of A3 factory too fast?
Samsung said it was "difficult to confirm customer-related content."
Text/CINNO Research Industry Information