In the latest report released by counterpoint research, a global research organization,China has become the biggest contributor to 5g mobile phones, with 79% of mobile phone shipments coming from the Chinese market in July, a record high.
visit:
Alibaba cloud launched a special special event for colleges and Universities: 0 yuan experience of entry cloud computing rapid deployment Entrepreneurship Project
Tang Ding told reporters,high passThe rapid commercialization of 5 G chips in middle and low end, the high efficiency of new product development of Chinese mobile phone manufacturers and ODM manufacturers, the effective control of epidemic situation in China, the efficiency of network coverage of Chinese operators and the promotion of 5 G packages are the main reasons for the rapid increase of mobile phones in China.
According to the latest data released by the Ministry of industry and information technology, up to now, more than 600000 5g base stations have been built and opened in China, and the total number of terminal connections has exceeded 100 million.
In addition, the reporter noted that in early September, Qualcomm officially announced the latest progress of 5g chip, and planned to expand the 5g mobile platform product portfolio to the Qualcomm snapdragon 4-series platform in early 2021. According to the release rules of the past products, the high-tech snapdragon 400 is mainly positioned at the entry-level of the middle end, which means that Qualcomm is rapidly pushing the price of 5g mobile phones down further.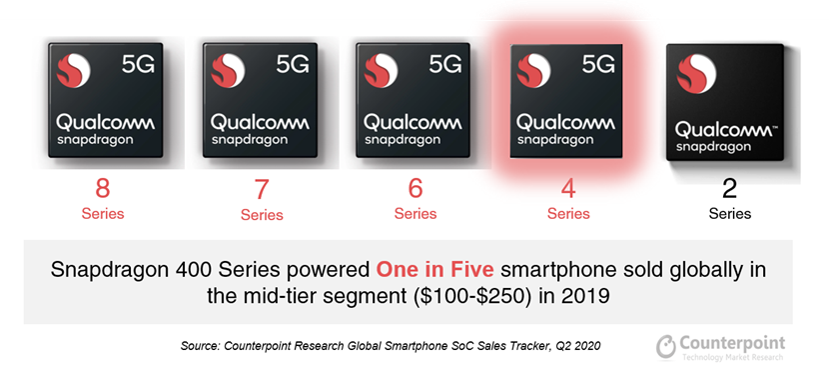 At present, the $100-250 mass market has more than 600 million smartphones a year, and Qualcomm's old rival, MediaTek, has previously released the Tianji 700 series to attack G 5-thousand-dollar chip market.
However, the average price of 5g mobile phones is still higher than that of 4G products.
Counterpoint points out that 5g shipments have increased the average price of smartphones. In the second quarter, the average selling price (ASP) of global smartphone market still increased by 10%. Among them, China's mobile phone market rose the most, reaching 13%, with an average sales price of 310 US dollars (about 2114 yuan). Although North America increased by only 7%, the average selling price reached 471 US dollars (about 3213 yuan).
It was previously reported that,iPhoneCompared with past models, the price of the highest model may rise by nearly $100, mainly due to the increased cost of various parts of the iPhone 12, but in the view of analysts, this will not affectAppleSales volume.
Previously, DIGITIMES has published an estimate that the number of new iPhones will reach 68 million in 2020, whileJPMorgan ChaseIt is predicted that iPhone sales will reach 203 million units in 2020 and 205 million units in 2021.
Author: Li Na