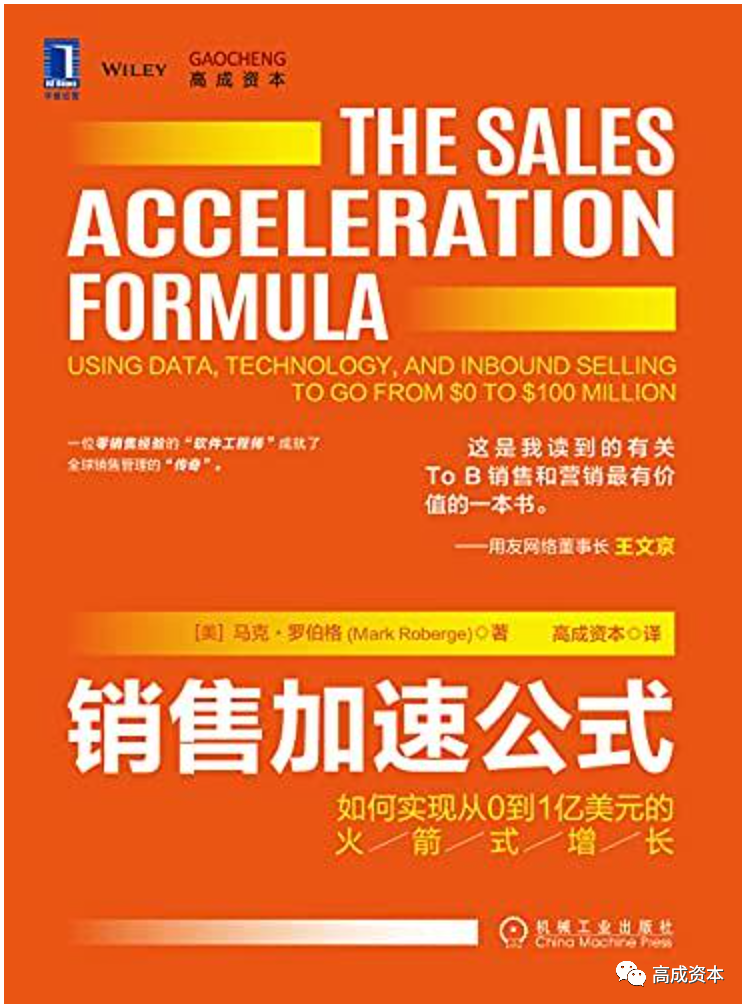 The Sales Acceleration Formula was published in 2015, translated by GaoCheng Capital and officially published in 2021 Chinese edition of the Sales Acceleration Formula
Translator's preface to the Sales Acceleration Formula
Hong Jing, founding partner of Gaocheng Capital
The rise of China's economy has largely benefited from the dividends of reform and opening up, the division of labor in globalization, and the pilot of technological progress in the world. Looking to the future, realizing the paradigm shift from fetchism to independent innovation is the unshirkable historical responsibility of our generation.Innovation enters no man's land, and it is more necessary to navigate rational thinking and scientific methodology.Natural science research requires methodology, and so does business management as a practice of social science.
As an investment fund focused on the field of enterprise services, we have noticed that many new generation of to B entrepreneurs with a new generation of technology have a headache about sales management, think that the art of sales is more than scientific, and hope to find a good sales leader. Unfortunately, the construction of organizational capabilities is not so simple, there are many trial and error links in the field of enterprise services, the trial and error cycle is long, if there is a lack of replicable and sustainable optimization of the sales methodology, To B enterprises in the journey of innovation once they take a detour and "fall into the pit", it often takes a long time to get back on track.
Especially in China's current technology and market environment, To B enterprises are facing"Four in One"The opportunities and challenges, enterprise customers should not only make up for the mature market has gone through 40 years of IT, 20 years of SaaS courses, but also make full use of China's relatively leading mobile, AI application practice, through continuous innovation, all-round promotion of enterprise digital and intelligent transformation. There is a huge opportunity for a new generation of entrepreneurs to doUse new supplies to unlock and define new demands,It also means a huge challenge—trial and error at the same time in multiple parts of demand definition, product-market-fit (PMF), go-to-market (GTM), pricing, sales management, channel management, incentives, and more. We thinkGood enterprise-grade software enables management best practices to be solidified under new technology conditions.In the current enterprise service market, the general needs of customers in many fields have not been fully abstracted, management best practices have not been fully refined, and product standardization still has a long way to go, which undoubtedly increases the difficulty of sales work.
In addition, the experienced new generation of To B sales talents in the market is still relatively scarce, and the best practices of SaaS sales are still in the process of being polished, and it is not realistic to dig up an all-round sales team that can turn stones into gold in an instant. The rapid growth of many SaaS products in the United States has benefited from the clear demand and stable channels of the previous generation of subscription software, and the new generation of products can be directly replaced by cloud delivery. The product innovation and sales management of China's new generation of enterprise services have to be fully explored in the case of "unmanned pilot", and the short-term growth rate may not be as good as the SaaS star companies in the United States, but the To B business is often "slow is fast", and the accumulation and continuous innovation can achieve long-term compound interest growth and value creation.
Innovative exploration in no man's land requires more methodological guidance and continuous optimization. Methodology is a field of study, a method of study, a theory of our way of searching for the truth of the world and thus transforming it. The "Sales Acceleration Formula" translated and recommended by GaoCheng Capital is a practical example of using scientific and rational thinking to find the true meaning of sales management, and to achieve measurable and predictable revenue growth by establishing and optimizing replicable sales formulas.
The book's author, Mark Roberge, joined SaaS startup HubSpot in sales as a software engineer just graduated from MIT, a Muggle with no sales experience at all. This book records how Mark returned to the "first principle", deconstructed and sorted out the key elements and core processes of sales with engineering thinking, decomposed sales recruitment, training, management, compensation and performance evaluation into implementable engineering methods, built a quantifiable and optimizable sales system from scratch, and showed an example of building a strong sales organization. Selling is no longer art, but a measurable formula. Today, HubSpot is a SaaS star with annual revenues of more than $1.2 billion and a market capitalization of more than $30 billion. How do I find similar high-performing salespeople? How can the same training be guaranteed? How do I implement the same process management? How to generate quality and quantity of stable sales leads? How do you break down the problem, quantify it first, and then optimize it? Mark's methodology and practice have high reference and reference value for the sales management of Chinese start-up enterprises. Mark is currently teaching entrepreneurship courses at Harvard Business School, and Gaocheng Capital has the honor to cooperate with Mark in depth to help the growth of China's To B enterprises in many ways.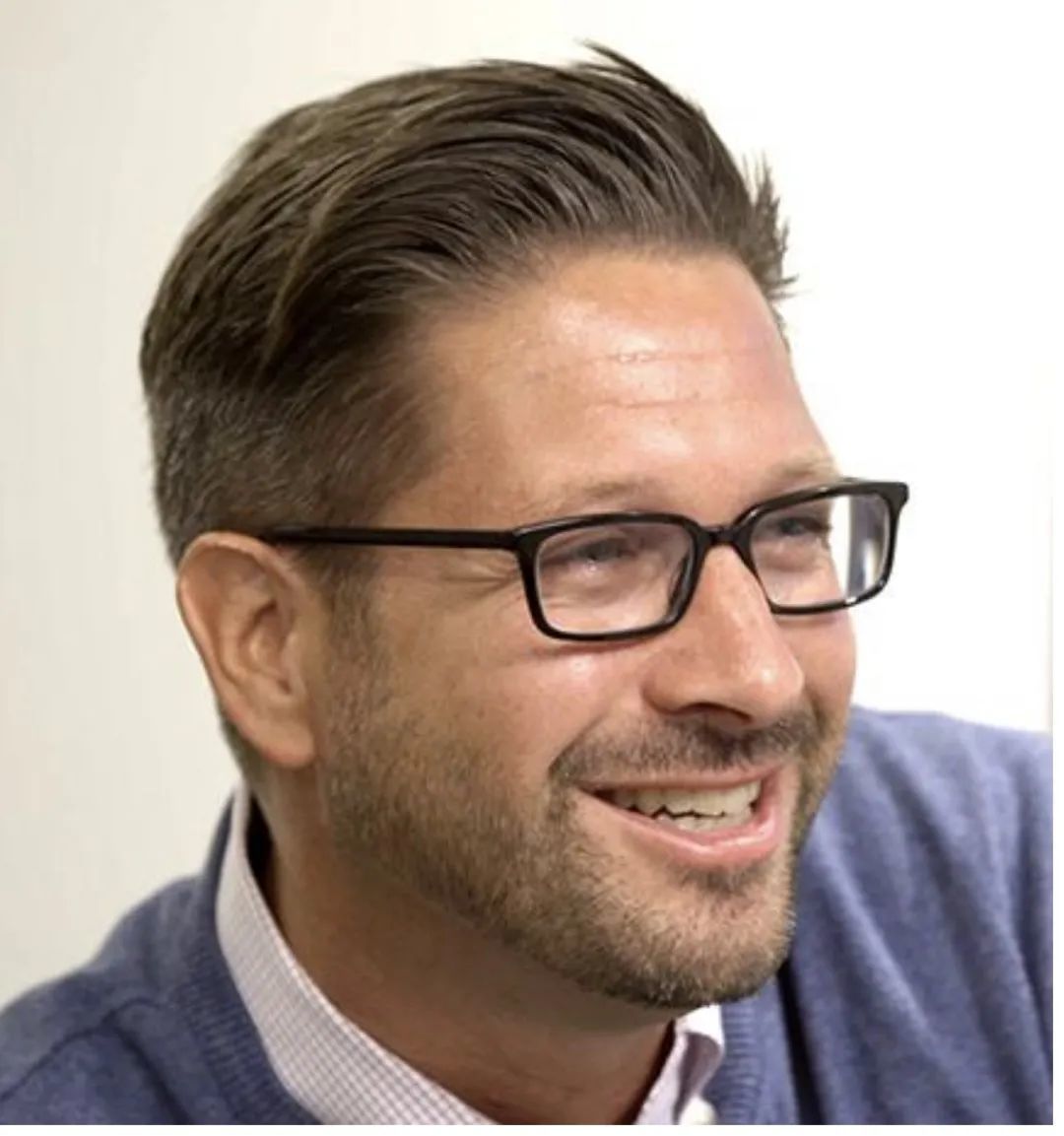 Mark Roberge was Former Senior Vice President of Global Sales and Services and Chief Revenue Officer at HubSpot
Of course, no methodology works for everyone, and the methodology itself needs to be constantly upgraded. The premise of creating a methodology is a deep understanding of the basic principles, to be able to see through what the first principle of things is, and what are the underlying logic and elements. To B Entrepreneurship is long and difficult, requiring entrepreneurs with a firm, enthusiastic desire to explore the truth, and a dedicated, patient spirit of hard work. Only with a methodology can we achieve innovation and growth that can be accumulated, reviewed, optimized, and sustainable.Continuous accumulation and optimization of the organization of the methodology can achieve continuous evolution.Only by applying rational thinking and scientific methodology to the fields of society, humanities and management can we truly promote social innovation and progress.
As a research-based enterprise service investment fund, we hope to help Chinese entrepreneurs build world-class enterprise service companies, not only to provide long-term, patient capital and deep, forward-looking industry insights, but also to provide practical methodologies for reference.Seek truth on the road, do not ask the west and the east.Translating and recommending this book is a methodological practice of Gaocheng Capital to help startups and their sales teams introduce other rocks and share best practices.
"A pawn in the arch of the day, the merit is not donated", Gaocheng Capital team took this as a training and encouraged everyone.