On December 27, according to the official website of the China Banking and Insurance Regulatory Commission, Bank of Chongqing Co., Ltd. (hereinafter referred to as "Bank of Chongqing") received two consecutive fines due to a number of violations of laws and regulations, and the cumulative fines and confiscations exceeded 4.3 million.
Specifically, one of the fines showed that the Bank of Chongqing was fined 2.8 million yuan, involving violations of laws and regulations including: the misappropriation of credit funds; the mismatch of the term of wealth management products, rolling offerings, and mixed operations; the funds raised by newly issued products after the expiration of wealth management products to cover up risks; the non-standardized debt assets of wealth management investment were not compared with the management of self-operated loans; and the illegal collection of entrusted loan fees.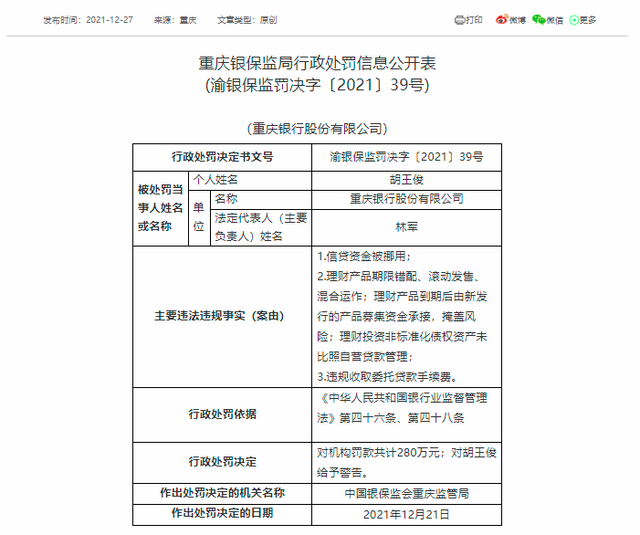 Another fine shows that due to the failure of the pre-loan investigation, the formation of "fake mortgage" loans; the issuance of credit loans to related parties; irregular transfer of credit assets, incomplete transfer of risks, insufficient provision withdrawals, etc., the Bank of Chongqing was fined 1.5 million yuan, and confiscated 25225.63 yuan of illegal gains.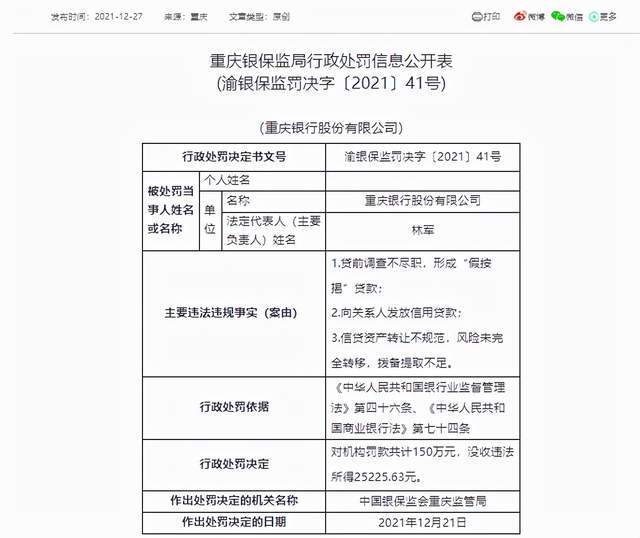 According to public information, Bank of Chongqing was established in 1996, is the earliest local joint-stock commercial bank established in the western region and the upper reaches of the Yangtze River, jointly initiated by 37 urban credit cooperatives and municipal cooperatives in Chongqing, 10 local financial bureaus and 39 enterprises and institutions to establish Chongqing City Cooperative Bank, in August 2007, approved by the China Banking Regulatory Commission, renamed Chongqing Bank.
On February 5, 2021, Bank of Chongqing landed on A shares, becoming the third A+H listed city commercial bank in China. On the first day of the A-share listing, Bank of Chongqing raised the limit after the opening of the market, and the closing price was 15.60 yuan per share, an increase of 44.04%. However, on the second trading day of the A-share listing, the company appeared to have a flash crash and stop situation.
Since then, the share price of Bank of Chongqing has maintained an overall downward trend. As of the close of trading on December 27, the bank's A-share price has fallen to 8.87 yuan, down more than 40% from the high since the listing. (Text| AI Finance & Economics Summer)