Editor/Xiao xiang
Earlier this week, Musk gave his latest views on many hot topics such as the US economy and the Twitter acquisition when he was a guest on the "All-In" summit technology conference interview program in Miami.
Among them, Musk's praise for China's social media platform WeChat immediately triggered a heated discussion among domestic netizens: When "American Horse" likes "Little Horse Brother", will it also indicate that WeChat will become a template for its future transformation of Twitter?
Musk said on a talk show at the time, "If you're in China, then your life can basically depend on WeChat." WeChat is powerful, basically anything can be done, it's a bit like Twitter plus PayPal, plus a whole bunch of other features combined into one. The interface is also great and really a really good app. "
Musk also complained, "There is no app like WeChat outside of China, and I think such an app is very useful: it has no spam, people can comment on WeChat, post videos, and content creators can get a revenue share." "
Musk added that he wasn't sure whether Twitter should be such a super app or whether it should create an entirely new product from scratch. But one thing he's pretty sure of is: "There has to be such an application." "
"This application can be built into a digital town square where people can discuss opinions and gain maximum trust, and once trust is gained, whether it's the introduction of cryptocurrencies or fiat currency payment methods, it makes sense," Musk said.
  Domestic netizens are hotly discussed: "American horse" in the "little horse brother"
On Wednesday, Musk's praise for WeChat has also quickly "become popular" on domestic social media: at present, related terms have been at the forefront of Sina's hot search.
Some netizens joked: "Isn't this signal a sign that Musk is ready to fully acquire WeChat, I don't know if Tencent will let go?" "
Some bloggers also told Musk that "Twitter is more like a social platform similar to Weibo than a communication-focused, closed software like WeChat." However, WeChat's instant payment can indeed be used as a reference, and I don't know what kind of interaction with cryptocurrencies can be generated. "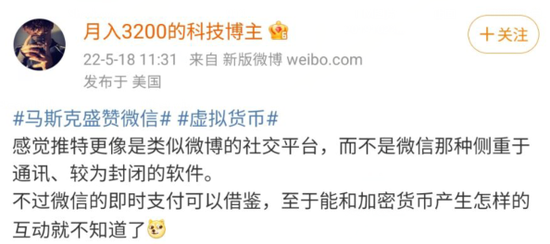 Tesla, based in Austin, Texas, has a large presence in China. In the first quarter of this year, Tesla's sales in China increased by 56%. Throughout last year, Tesla's Shanghai Lingang plant delivered a total of 484,100 electric vehicles and became Tesla's most important export center in the world.
And thanks to his understanding of the Chinese market, Musk is obviously no stranger to many Chinese Internet companies.
  Musk praises behind WeChat: the more you look at Twitter, the less "satisfied" you are
It is worth mentioning that while Musk praised WeChat this week, he seems to be less and less "satisfied" with the Twitter that will be in his pocket.
After Musk's "hold deal" last week stunned the market, Musk hinted on Monday that he might renegotiate the price of buying Twitter, and that it is not "impossible" to buy at a lower price.
Musk's latest remarks raise doubts about his commitment to completing the deal, which comes at a time when tech stocks are falling sharply. Musk said last week that the transaction was "put on hold" due to concerns about fake accounts on the platform. Social media companies have long been plagued by the problem of fake accounts.
Twitter CEO Parag Agrawal has spent the past few days trying to defend the company's ability to crack down on spam accounts. Agrawal said his company bans more than 500,000 spam accounts every day and millions of accounts suspected of being spam every week that can't be verified by real people.
"Unfortunately, we don't think it's possible to make such a specific estimate from the outside, because the key to making this estimate is that public and private information must be used, which we can't share." It's even impossible to know which accounts are counted as monetized daily active users on a given day," Agrawal said.
In response, Musk sent a number of tweets in response, one of which only had a picture of on it.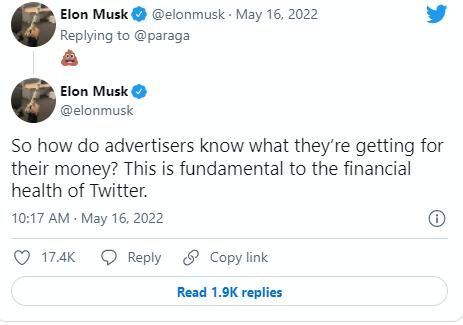 When WeChat, which is far away, has become the flower in Musk's eyes, and the upcoming Twitter has become the in his eyes, it may not be difficult to understand why more and more people in the industry are not optimistic about the deal.
On Tuesday, Twitter's stock price rebounded driven by the overall rise in us stocks, but the stock has fallen for seven consecutive trading days, and even with the news of Musk's acquisition, Twitter's stock price has fallen by more than 10% so far in the year.